German Certificate Attestation in Abu Dhabi, UAE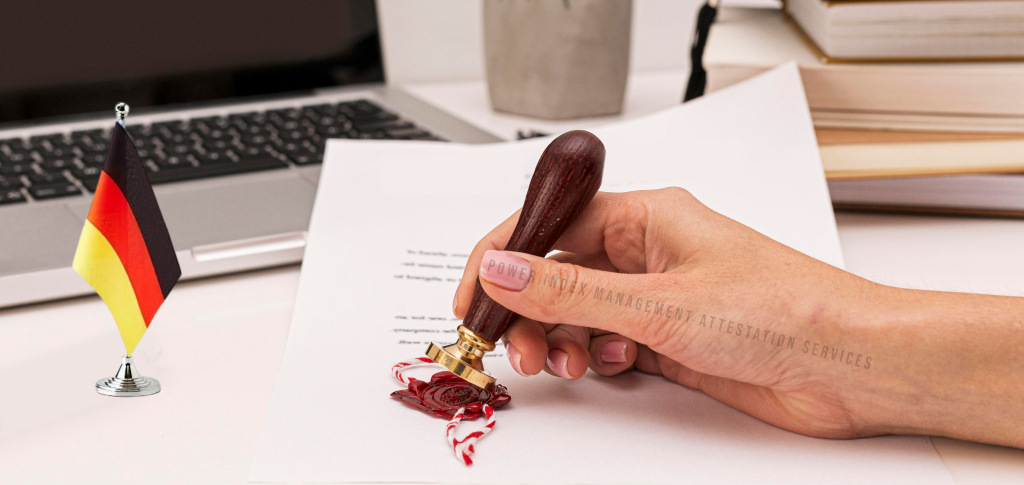 Germany Certificate Attestation in Abu Dhabi, UAE - certificates issued in Germany, made reference to as German certificates, must be attested by a legal authority to ensure that they are truly authentic for use in a foreign country. We provide an end-to-end seamless attestation service for all German-issued certificates, such as school certificates, college certificates, diploma certificates, university certificates, birth and marriage certificates, and company certificates, which can be Notarized and attested in your physical presence/absence.
Before a German-issued certificate can be used in the UAE, it must be attestation. Because of the multiple steps required for total attestation, the procedure is frequently difficult.
Attestation is usually required for an educational certificate issued in Germany, but with our assistance, you can get it done quickly. We also replace German marriage, birth, and death certificates, with new certificates valid for resulting attestation. The general procedure follows the following steps.
Documents required for Germany certificate attestation in Abu Dhabi, UAE
• Required original certificates
• Passport copy
The process for Germany certificate attestation in Abu Dhabi, UAE
Attesting German certificates for use in the Abu Dhabi, UAE can be a difficult process. There are multiple requirements that must be met depending on the type of certificate, the language it was written in, and the authority to which it must be presented. These requirements vary from certificate to certificate. The sections that follow outline a typical set of processes that may be required. However, you should contact us to confirm the specific requirements for your specific situation.
Verification

The majority of German certificates will require an initial stage of certification. This could be verification from a governmental agency or simply the requirement to bring a certified and notarized copy of the original certificates. However, in the case of government-issued certificates such as birth, marriage, or death certificates, this step is not required.
German to English translation

Because the UAE Embassy only accepts certificates written in English or Arabic, any certificates not already in English must be translated. The original certificate is translated from German to English, and the translator cusses to the accuracy of the translation. The original certificate and its translation are then bound together and certified.
Certification by a Supervisory Authority

Prior to federal attestation in the German federated system, certificates must be certified by one of a number of authorities. These are usually government departments within a specific ministry, but they can also vary by location. In the case of a sworn translation, the supervisory authority is the District Court, which will check to see if the translator or translation company is registered with them before certification.
Centralization in Germany

Once a certificate has been reviewed by the appropriate supervisory authority, it can be submitted to the Federal Administration Office for attestation. During this process, the officials will add a paper sticker to the certificate as proof that the supervisory authority certification was correctly completed.
Attestation from the UAE Embassy

In Germany, the final step is to have the certificate stamped, or attested, by the UAE Embassy in Germany. During this stage, the certificate receives an official UAE-government sticker and seal. This confirms to the UAE authorities that the certificate has completed all of the necessary steps in Germany.
Attestation by the MOFA (UAE)

Once in the UAE, the certificates require a further attestation stamp from the UAE Ministry of Foreign Affairs, which validates that your certificate was processed correctly in Germany. Some employers will handle this for you, so you should check to see if this is something you need to do. If you prefer to handle this process on your own, we can arrange for the necessary PCR test to be performed before you arrive. If your certificate does not require a final Arabic translation (see the next section), you can use it in the UAE once this stamp has been applied.
English to Arabic translation

In some cases, your certificate may also need to be translated into Arabic. Again, your employer might handle this for you, so double-check. If necessary, a recognized certified translator will translate the entire certificate and its relevant stamps from English into Arabic. Everything has been completed to make it fully usable within the UAE once the translation has been completed.
The cost for Germany certificate attestation Abu Dhabi, UAE
Attestation fees are likely to vary depending on the service you select, the attachment you select, and the nature of the certificates. When you apply for attestation of two or more certificates, we offer special discounts and concessions.
The time requirement for Germany certificate attestation in Abu Dhabi, UAE
The amount of time required is determined by a number of factors, including the country requiring authentication, the type of certificates required, and the organization requiring it. It usually takes between 15 and 30 days to complete. The previously mentioned factors will continue to influence time.
Reason for choosing Power index management services in Abu Dhabi, UAE for your Germany certificate attestation in Abu Dhabi, UAE.
Power index management services in Abu Dhabi, UAE is an expert in Germany certificate Attestation services in Abu Dhabi, UAE. Whether you plan to work, study, or start a business in the UAE, certain certificates must be attested to demonstrate an individual's genuineness. For all personal, educational, and commercial certificates, we offer professional attestation services in the UAE.
• Document collection and delivery that is efficient
• Payment options that are both flexible and dependable
• Status updates will be delivered to the registered email address and WhatsApp number.
• Exceptional care throughout the attestation process.
We provide extra benefits to ensure that the client receives a stress-free service. Once we receive the certificates post-attestation, you may collect them in person or choose from the available delivery options. The authorized certificate holder can only change the delivery address after receiving a notification via email. Take advantage of free delivery within Abu Dhabi, UAE.
Why Power Management Services
We believe in customer satisfaction, our service is consistent and cost effective, at the same time committed to highest business standards.